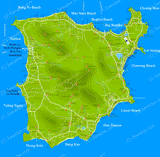 Samui Island: Travel Hotels on line information for your direct travel provided interesting Thailand province of Suratthani, that How To Get There, Attractions, Offshore Island, Boat Service To Koh Samui, Koh Pha-ngan And Koh Tao, Activities, Festivals, Local Products, Accommodation, Restaurants, Travel Agent, Car Rental, Golf Courses, Spas, Dive Centres, Useful Calls that you can find where to have your booking to enjoy relax, vacations, holiday....!!
Samui Attractions: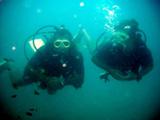 Samui is located in Suratthani province and is divided into nineteen districts: Muang, Phunpin, Kanchanadit, Tha Chang, Ban Na San, Ban Na Deom, Khiri Rat Nikhom, Donsak, Khian Sa, Chaiya, Phrasaeng, Wiang Sa, Vibhavadi, Ban Ta Khun, Tha Chana, Phanom, Koh Samui, Koh Pha-ngan, Chai Buri.
Muang District:
Nai Bang Area: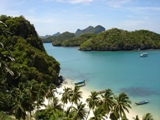 Nai Bang is an alluvial plain around the month of the Tapi River which is crisscrossed with networks of canals. The canals are lined with mangrove forest alternating with traditional southern-styled houses, behind which are coconut farms and orchards. The people here still maintain a simple way of life and make their living on indigenous natural resources, despite the bustling economy in the Ban Don (town) market just opposite the river. Access to nai bang is by the bridge across the Tapi River or by long-tail boat from Ban Don. The boat can carry 6-8 people and charge 250 baht per hour. Visitors may contact the travel agents in Suratthani which sell a one-day tour package to the Nai Bang area.
Khao Tha Phet Nature and Wildlife Study Centre: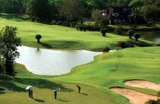 6 km. south of the provincial capital along Highway 4009 (Suratthani-Na San) and 1.5 km. along the access road, this centre is located on a hill called Khao Tha Phet and covers an area of 4.65 square kilometres. The designated trail allows visitors to see some rarely-seen trees and to take a close look at the levels of soil, sandstone, and dry evergreen forest.
The hilltop, some 200 metres above sea level, offers commanding panoramic views of Suratthani town and the Tapi River. Phrathat Si Surat, a candle-like stupa on the hill, was built in 1957 and contains Load Buddha's relics donated by the Indian government.
Kanchanadit district:
Monkey School: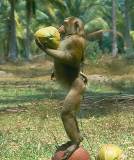 In the southern provinces, monkeys work for humans in the harvesting of coconuts. Expert climbers, they show quick skills that are a boon to farmers. The various training schools in the region act as seats of higher lerning for monkeys, some are open to visitors. Perior contact is necessary. Tourists are advised to check with local travel agents for full details.
Oyster Farm:
Suratthani people take so much pride in their big and delicious oysters that they have become a part of the province's motto. Most oysters are raised around the mouth of Kradae and Than Thong canals. To visit the farms, touris are advised to contact local travel agents.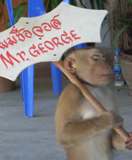 Tha Chang District:
Ban Khlong Sai Monkey Training Centre:
Located in front of Wat Ampharam, Moo 3, Tambon Khlong Sai, Amphoe Tha Chang, the centre trains monkeys to pick up coconuts as well as to perform tricks for visitor. For details call 0 7721 6763 or contact travel agents in Surat Thani.
Chaiya District:
Wat Suan Mokkhaphalaram: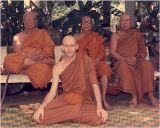 Better known as Suan Mokkh, this 150 acre forest temple is located beside Highway 41 some 50 kms. north of the provincial capital. Suan Mokkh's founder, the late Buddhadasa Bhikkhu, was highly respected both locally and internationally. His 'Back to basics' from of Buddhism, mirroring that led by the Buddha's earliest disciples more than 2,500 years ago, attracted many Buddhist monks and lay meditators from many countries. The enclave is devoid of extravagant ceremonnial and elaborated chapels. The forest tranquility is ideal for a life of contemplation. Call 0 7743 1552, 0 7743 1597 or visit <Click> www.suanmokkh.org for more information.

Phra Borommathat Chaiya: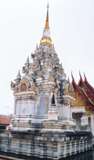 This elaborately restored and revered chedi (pagoda) is locate some 4 kms. northeast of Suan Mokkh, or 1 km. from Chaiya railway station. Constructed along Mahayana Buddhist's beliefs of the 7th Century, the great chedi is reputedly the best preserved Srivijaya artwork in Thailand. The stone chedi has 3 receding tiers, each of which are decorated with small stupas. The Buddha's relics are enshrined inside the chedi. In the surrounding chapels are enshrined serveral Chaiya-styled Buddha statues.
Chaiya National Museum in the temple contains artifacts from the 5th - 6th Century, which recount Chaiya's history as a pre-historical community developed into a city port trading with China, India and Arabia. Other collections are antiques and gold offerings donated to the great chedi. The museum is open Tuesday-Friday from 9 am.-4 pm. Admission is 30 baht. Call 0 7743 1066 for more information.
Wat Wiang, Wat Kaeo and Wat Long: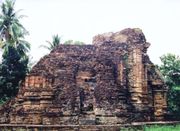 These 3 temples are supposedly contemporaries of Wat Phra Borommathat Chaiya. The seated Buddha statue protected by naga made in 1183, and a sandstone, Chaiya-styled, Buddha statue were found at Wat Waing. Wat Kaeo and Wat Long have Chaiya-styled brick chedi on indented squre bases.
Phumriang Village
Located some 7 kms. east of Chaiya, this Muslim fishing village is famed for its hand-woven silk cloth in red, yellow and black. Buddhist Thais in the village weave hats from leaves. Nearby Laem Pho was once an ancient port during the Srivijaya period.