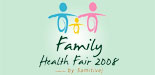 SAMITIVEJ'S "FAMILY HEALTH FAIR
2008"
OFFERS ANSWERS TO ALL YOUR HEALTH CONCERNS
Samitivej, Thailand's leading private hospital group with commitment to be the "lifetime companion", invites health-conscious people to explore new medical technologies for all family members at the hospital's annual event, the "Family Health Fair 2008" to be held from 25-27 July 2008 at Central World.Structured in six zones, each zone features different technologies as follows
Zone 1 Happy Kid: allowing parents to learn more about kids health, including children development index, children height index, obesity trend that may lead to other chronic diseases, such as diabetes and heart disease, bone marrow transplantation for leukemia and thalassemia treatments, PED Wings or pediatric aeromedical evacuation, and medical advice from Samitivej's pediatricians.
Zone 2 Healthy Family: featuring diabetes and heart attack risks assessment; foot clinic with I-Step technology to help identify people with foot problems; advice on brain system and Alzheimer's Disease; importance of your annual check-up; and check-up to identify risks of some particular illnesses
· Zone 3 Ladies First: discovering new beauty technologies, and learning more about IVM technology for people with infertility, digital mammogram, 3D and 4D ultrasound, gastric banding as well as HPV vaccine, the latest innovation that keep cervical cancer away from women.
Zone 4 Smart Gentlemen: Learning more about a new technology for diagnosing liver cirrhosis using Fibro Scan that provides accurate and quick result which is unveiled publicly at this event; be amazed with gastrointestinal wireless capsule endoscopy, a tiny digital camera in a tiny easy to swallow capsule that travels down your intestines to examine your digestive system; getting to know more about Minimally Invasive Heart Surgery as well as a computerized navigation system technology for treating backache and ostheoarthritis of the knee.
Zone 5 International & Japanese: Various medical services are offered to international customers
Zone 6Healthy Home: Enjoy many educational and entertaining activities; meet Thai actresses Ann Thongprasom and Pancake Kemnij Jamikorn, and listen to their beauty & health experiences in Health Talk.
To receive our gift at the register corner, please click here
For more information, please contact
Punchama Chatchen Tel. 0 2378 9200 Email: punchama.c@samitivej.co.th
Chanthana Ongphiboon Tel. 0 2378 9145 Email: chanthana@samitivej.co.th
Suranchana Sitthiphoon Tel. 0 2378 9155 Email: ssitthip@samitivej.co.th