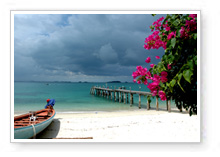 A favorite get-away island for Bangkokians, Ko Samet offers extensive pristine beaches with clean white sand and strangely shaped rocks. A haven for relaxation, this T-shaped island is a perfect retreat for those looking for sun, sand and sea. The climate is always pleasantly cool with an abundance of rain in August and windy monsoons in May.

There are a wide range of accommodations on the island with prices at the low-end starting from 200 baht for a bungalow with basic amenities, while bungalows with furniture and air-conditioning may start at the rate of 600 baht. Mid-range hotels and resorts mostly located around the Hat Sai Kaew area are also available. Reservations for accommodations should be made in advance as the place gets crowded especially during the festive season.

Attractions on Ko Samet include:

Hat Sai Kaeo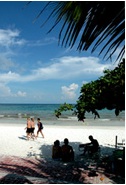 One of the most beautiful and most popular beaches on Koh Samet, Hat Sai Kaew is 1 kilometer long and 25 30 meters wide. The name speaks for itself, Hat Sai Kaew, which literally means Crystal Sand Beach, is a nice beach filled with activities. From dusk to dawn, visitors can enjoy sunbathing, swimming, jet skiing, windsurfing, riding on a banana boat or even partying at night.

Accommodations provided include bungalows and villas.

Ao Noi Na

Ao Noi Na, which is located near Hat Sai Kaew, has different ambience. It is quieter and therefore more suitable for those looking for a truly relaxing experience on the white, clean sandy beach.

Ao Hin Khok

Ao Hin Khok is separated from Hat Sai Kaew by a small rocky sea point where a mermaid statue is located. The beach, which is half the size of Hat Sai Kaew, is famous for its strangely shaped rocks. There are inexpensive bungalows/huts located along the beach, and also value-for-money restaurants providing fresh, quality seafood dishes.

Ao Pai

Located close to Hat Sai Kaew, Ao Pai is therefore quite crowded. For visitors interested in sunbathing, this is the ideal place as swimming is not recommended as there is whirlpool on the sea, as designated by the red flag.

Ao Phutsa

Ao Put Sa is a small bay on Koh Samet which draws repeat visitors intent on relaxing. Suitable for those who are tired of crowded beaches and nightlife activities, Ao Put Sa offers a quite retreat that reunites visitors with nature in its crystal clear waters.

Ao Thapthim

Ao Tub Tim, which is set in a tranquil atmosphere, is located near Ao Put Sa and is well known for its white sand and clear water. Ao Tub Tim has a small, cozy resort, which provides nice services in a well decorated compound.

Ao Nuan

Ao Nuan is located near Ao Put Sa and is a perfect hideaway for holidaymakers in search of tranquility.

Ao Wong Deuan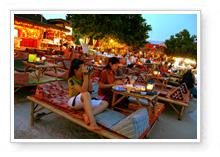 Ao Wong Deuan is the second largest beach on the island (the first being Hat Sai Kaew). Ao Wong Deuan attracts tourist groups during both the high and low seasons due to its beautiful white sandy beach and good accommodations. On top of this, good seafood restaurants with nice views are also available.

Ao Thian (Candlelight Beach)

Ao Thians topography is painted by rocky beach in which some nice spots for skin diving are available. This beach is very quiet and free from group tours with bungalows and resorts available around the beach area.

Ao Wai

Ao Wai is located within a short walking distance of Candlelight Beach. Shaded by coconut trees, the beach is a quite, scenic and serene spot for sea lovers.

Ao Kiu Nok

This bay is a perfect secluded den for those planning to keep their distance from the busy, crowded beaches and vibrant nightlife. From Aow Kiew Nok, visitors can actually walk to Aow Kiew Nai which is the ideal spot to see the spectacular sun rise and sun set.

Ao Karang

The best place to experience the traditional lifestyle of the residents of Koh Samet is at Ao Karang where there also are a number of seafood restaurants providing fresh seafood dishes at reasonable prices.

Ao Wiang Wan

Ao Wiang Wan is located on the west of Na Dan Pier, a large bay where lots of sport activities such as fishing, etc. take place.

Ao Phrao

Ao Prow is one of the quietest beaches of Ko Samet. Located quite far away from the lively nightlife of Ko Samet; Ao Prow is preferred by travelers who quietly enjoy the deep blue sea and white sand in the sunshine. Ao Prow has a long white sandy beach which is ideal for swimming.

How to get there: Four operators; namely, Nuanthip, Si Ban Phe, Phe Port, and Saphan Pla, around Ban Phe offer shuttle boat services between their ports and the main port of the island. All operators charge a flat rate of 100 baht per person for a round trip or 50 baht for a single journey. Boats can leave anytime when more than 20 passengers are waiting. The service is available around the clock, seven days a week.

For groups of at least 7 persons, Nuanthip Boat (0 3865 1508) offers a shuttle boat service to other bays as well, such as Ao Wong Duean (120 baht each) and to the last bay Ao Pakarang (200 baht each). Si Ban Phe Boat (0 3865 1902) also runs a scheduled boat service during weekends between Ban Phe and the main port of Samet. The hourly boat service from Ban Phe runs from 8.00 a.m. to 6 p.m. In the return trip from Samet, the boat leaves at 10.00 a.m., 2 p.m., 4 p.m. and 6 p.m. The company also offers a speed boat service at 1,000 baht a trip for 12 people to the main port, or higher rates for other routes. A parking service on the main land is available.

Getting around on Ko Samet: The island has only a single road. Some parts are concrete and some parts are only a dirt trail. A pick up truck offers a passenger service to the desired beach. The fee depends on negotiation, ranging from 20-100 baht each. Chartered service to get around the island costs between 200-1,500 baht.

Attractions on Ko Samet and Nearby:
Most beaches are on the eastern side of the island. The beaches hide in small bays and stretch some 200 metres. From the north, there are Hat Sai Kaeo, Hat Hin Khrong, Hat Khlong Phai, Ao Phutsa, Ao Thapthim, Ao Naun, Ao Cho, Ao Thian, Ao Wai, Ao Kio Na Yok and Ao Karang. The only beach on the western side is Ao Phrao. One of the famous beaches is Ao Wong Duean in the middle of the eastern side. This beach stretches in the shape of an almost complete circle. Both Ao Wong Duean and Hat Sai Kaeo have very fine white sand.

Ko Kruai, Ko Kham, and Ko Pla Tin

These islands are some 600 metres north of Ko Kudi. With coral reefs, tourists can enjoy fishing here. A rental boat service is available at the port in Ban Phe.

Ko Kudi or Ko Kut

The island is on the east of Ko Samet, six kilometres from the mainland. Ko Kudi totals an area of 63 rai. A nice beach and coral reefs make it a nice place for a hideaway. Nearby islands are Ko Thai Khangkhao and Ko Tham Ruesi. Without accommodation, the national park office on the island offers a tent for rent at 200 baht per person/ night. Pitching a private tent requires paying a fee of 20 baht per person/night. For more information, call Tel. 0 3865 3034, or in Bangkok at Tel.0 2561 2919 and 0 2561 2921.

Ko Thalu

Some 6 kilometres east of Ko Kudi, the island is another scuba diving site among coral reefs. The island totals an area of 69 rai, most remains lush forest. While high cliffs occupy the west, white sandy beaches occupy the east and south of the island. Ko Thalu is a habitat of seagulls, flying fox, and turtles.