Wedding in the Palace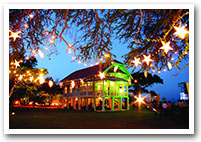 Since its construction during the reign of King Vajiravudh, Rama VI, Mrigadayavan Palace has been revered as the Palace of Love and Hope. Besides its cluster of beachfront golden teak buildings nestled besides the golden sands of Cha-am Beach, not far away is another golden teak pavilion which once served as the residence of Chao Phraya Ram Raghop, who held the position of A Chief Aid-de-camp to the King.

Retaining the seaside ambience and architectural style of its day, the pavilion can presently be hired as a perfect romantic venue for weddings and receptions.

For additional information, please contact: The Office of Mrigadayavan Palace Foundation 1281 Petchkasem Road, Cha-am, Petchburi Province Tel. 0 3250 8444-5 Fax. 0 3250 8039 www.mrigadayavan.org

---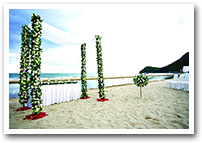 Wedding on the Beach
The peaceful, long stretch connecting the sandy beaches of Cha-am, Hua Hin, Pranburi and Ban Krud (Bang Saphan) have rightly been classified as amongst the most romantic in Thailand. Coupled with an unrivalled range of accommodation, including a plethora of luxury and boutique resorts, these four beach resorts are indeed an unbeatable option for wedding ceremonies and receptions, as well as affording the perfect honeymoon destination that you have always dreamt of.





---
Wedding on the Yacht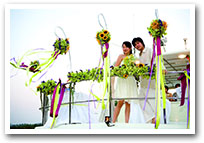 ban Maprao Resort and Ko Thalu Island Resort are able to cater for your marriage on board a yacht. The bridal couple sail into marital bliss, accompanied by with their invited guests, with an onboard wedding ceremony and/or reception as follows:

Your yacht has a capacity of 50-60 guests
All arrangements for the onboard reception are made for you, leaving you and your guests to enjoy the beauty of the passing scenery and waters off the coast of Bang Saphan

For additional information, please contact:
Koh Talu Island Resort
Tel. 0 3244 2636
Fax. 0 3244 2637
www.taluisland.com

---
Romantic Vineyard Wedding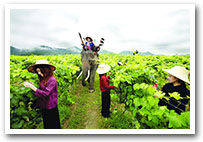 Hua Hin Hills is a 1,000 rais vineyard, located in a valley, not far from Hua Hin Beach. Far from being just a vineyard supplying quality grape varieties used in producing International-standard Thai wines for connoisseur's palates, the area is preparing to open up for visitors to sample the range of wines on offer.

For couples who share a love of both mountain and beach, this vineyard location near to Hua Hin Beach offers the opportunity of tying the knot entwined amidst the loving warmth of the vines, with a fresh toast to the newly-weds right at hand.

For additional information, please contact:
Siam Winery Trading Plus Co., Ltd.
Tel. 081 701 8874
Fax. 0 3252 6351
www.siamwinery.com

---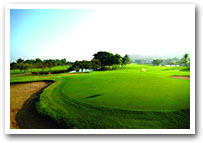 Wedding on the Golf Course
Hua Hin/Cha-am is not just a heaven for golfers, it can also be a heavenly haven for loving couples who share a love of golf.

For couples who would like to hold their marriage celebrations amidst a shady, leafy retreat, surrounded by a maze of beautifully-manicured fairways, all golf courses would be delighted to tee your marital life off in the right direction by catering for all your needs.




---
Service Providers, Caterers and Facilitators
Siam Kolkarn Hua Hin Music School
can provide for all your needs from electrical, light-and-sound system, stage and stage decorations, including smoke-effect and dry-ice machines.

They can also meet your musical requirements, including:
-Trio with vocalist
-Quartet
-Violin soloist
-Stringed instruments and band
-Grand piano, etc.

20/32 Petchakasem Rd.,
Soi Hua Hin 108, Hua Hin
Tel. 0 3251 6516-7 Fax. 0 3251 2502
Mobile phone : 08 1880 4054
e-mail : mister-tuba@hotmail.com

My Way (Accommodation)
Tel. 0 3251 1397 Fax. 0 3251 2502
www.mywayhuahin.com

---
Suppliers of Wedding Dresses for Brides and Wedding Suits for Grooms
Nicha
Phetchakasem Rd., Hua Hin Soi 98 Hua Hin
Tel. / Fax. 0 3253 1256
Mobile phone : 08 9837 5278

---
Hairdresser's & Beautician's
Anthony Care Spa And Salon
Petchkasem Rd., Hua Hin
Tel. 0 3253 1068

---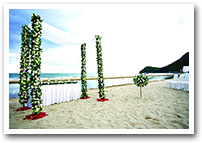 Florist's & Floral Arrangers
Florist For Love
Railway Rd., Hua Hin Tel. / Fax. 0 3251 3910

Helen's Florist
Railway Rd., Hua Hin
Tel. 0 3251 3077
Fax. 0 3251 3897
www.huahinflorist.com
e-mail : huahinfloral@yahoo.com