Vimanmek Palace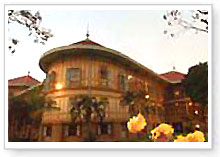 An outstanding example of 19th century architecture. While admiring the craftsmanship of the carpenters, you will travel back through time to gain a rare insight into the lifestyle of royalty.
Vimanmek Mansion, the principal building in the palace compound, was built for King Rama V on land he named The Dusit Garden located between Padung Krungkasem and Samsen canals. The completion was celebrated on March 27, 1901 and King RamaV took up residence until 1906. The mansion was originally his Summer Palace, the Munthaturaltanaroj Residence, on Sri Chang Island. It was dismantled and re-built at the present location under the supervision of HRH Prince Narissaranuwaddhiwongse.
The three-storey Vimanmek Mansion is the largest golden teak building in the world, built in an architectural style that reflects European influences. There are two right-angled wings, each 60 metres long and 20 metres high. The section where The King resided is octagonal and has four storeys. The mansion has 81 rooms, halls and ante-chambers.
Following King Rama V moving to Amporn Satarn Mansion in 1906, Vimanmek Mansion was un-occupied until 1925 when King Rama VI gave permission for his wife, HRH Indharasaksaji to take up residence there. She stayed there until his death.
For the next 50 years it was used as just a storage area for the Bureau of the Royal Household until 1982 when HRH Queen Sirikit initiated its restoration as a museum to commemorate King Rama V.
Today, there are 31 exhibition rooms. Exhibits include a silverware room, ceramic display room, glassware and ivory display. Some of the rooms have been preserved to retain the atmosphere of the earlier era, particularly the bedrooms, bathrooms and the Audience Chamber. Other buildings in the compound also house displays of various artifacts and precious art objects.
How to get there : Bus Routes 18, 28, 108, 510, 515
Opening Hours : Open to the public everyday from 9.30 am. to 3.15 pm.
Admission Fee : Baht 100. If you have visited The Grand Palace on the same day you will have also received an entrance ticket to Vimanmek Palace which is valid.
Contact : Telephone: 0 2628 6300-9
Website : www.palaces.thai.net
Nearby Places/Attractions: Wat Benchamabophit (Marble Temple), Dusit Zoo, Anantasamakom Thron Hall, King Rama V Statue